Q&A: New Executive Chairman David Pottruck Back In the Game With Grovara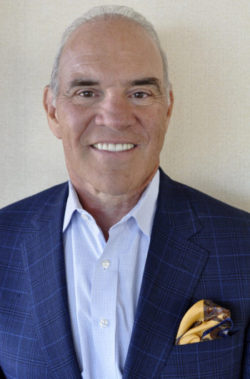 A few months ago, David Pottruck decided he had enough.
At 70 years old, the former CEO of Charles Schwab and New York Times best-selling author was listening to the universe, and the time felt right to spend time on other things.
He stopped his investment activity, shut down his San Francisco office, let his staff go, and helped place them in other jobs.
"My intention was to be kind of retired and not very deeply involved anywhere," says Pottruck, who still teaches at the Wharton School.
"Then Grovara came along."
In mid-March, Pottruck became Grovara's first Executive Chairman, leading a $5.5 million seed round that puts Grovara in position to transform global commerce with its first-to-market B2B marketplace for healthy U.S. brands. The company is rapidly expanding its global footprint, and Pottruck has been working tirelessly to maintain Grovara's momentum. A master of reinvention and transformation, Pottruck seems made for these times.
Pottruck, like Grovara, has his own Philadelphia story. He was a two-sport standout at the University of Pennsylvania, coached wrestling while earning his MBA at Wharton, and took an elite athlete's approach to driving innovation for 20 years at Charles Schwab, where he rose to CEO. He later served on the board at Intel, helped launch a wealth management firm and served as its chairman in taking it from a piece of paper to a $2 billion-plus valuation.
An award-winning instructor at Wharton who speaks regularly to leadership groups across the country, Pottruck recently donated $6 million to UPenn toward the Penn Athletics Wharton Leadership Academy and the Set the Future in Motion initiative, both of which focus on mentorship and leadership development. The Penn Athletics Wharton Leadership Academy (PAWLA) is a part of the Center for Student-Athlete Success, which will be renamed to The Pottruck Center for Student-Athlete Success (PCSAS).
Back in the daily lineup with Grovara, Pottruck will be game-planning for accelerated growth.
How do companies grab your attention? Is it their tech? Their pitch? Their team?
There are always two things I look for when investing in early stage companies. People and the idea. People without a great idea doesn't work, and an idea without compelling people doesn't work. I have to size up both of them to see what is worthwhile of my capital. Then I determine if I have any passion around what they are doing. Can I bring something a little special to the party to help this company. If the answer is yes, I get involved personally, sometimes as a CEO coach, sometimes as an advisor.
What makes Grovara so attractive?
This little company has first-mover advantage in a $100 billion-plus market where everyone is doing business the old way with distributors and Word documents and emails. There's not a tailored, multi-step process that takes a brand through the process of fulfilling an order and a retailer through the process of placing an order and monitoring it from the warehouse to the shipper to the trucker to the loading dock and ultimately into the store.
(Grovara) came to me a few months ago and they showed me how they automated the complete supply chain and built something really unique and I got much more excited about it as a real business opportunity so I volunteered to help them raise money and to make a more substantial investment myself. I participated in about half-dozen investor pitches and over time i got to know the company better than ever and came to realize there's an extraordinary opportunity here. That comes from two things:
First, U.S. wellness brands sell over $100 billion in the US, they only do less than $10 billion in exports. There's a huge opportunity to export to the rest of the world, an untapped opportunity that no one has effectively penetrated or there'd be bigger international sales. Second, why isn't there more (export) sales? Exporting is very complicated. Every country has its own regulatory processes, its own import processes.
What is your take on the accelerated digital transformation we're seeing? Everything seems to be moving faster, especially since the pandemic. Will that last?
There are more and more tools to enable the digital transformation to happen without people having to build everything from scratch. You want to build a sales pipeline? You don't have to build a CRM system. You get Salesforce. There's a whole bunch of things like that where so many old business models are built on inefficient platforms that result in unnecessary work for the consumer or company. 
Take my old firm Charles Schwab. They still have local offices but most of those offices have been closed for a year. They're doing everything remotely and I don't know whether those offices or call centers will reopen again. The whole business model has evolved. It's no longer necessary to be together in an office. Social media allows for new ways to target your marketing in ways that allow for greater efficiency.
You just made a wonderful gift to UPenn Athletics — why do you believe so strongly in the connection between sports and leadership development? 
If you're going to play sports in the Ivy League, in most cases you don't have the intention of being a professional athlete or you'd be playing in the BigTen or SEC. So you fin yourself doing something 30 hours per week that doesn't have lasting value to your life. It might have been fun in high school, spending 10 hours per week, but now you're spending 30 hours a week taking on extraordinary athletic responsibility. To me, if we don't place that in a context of character development and leadership development then we're missing the whole point. 
It might be you love playing baseball or soccer or lacrosse but when you're playing in the Ivy League, while the intention isn't to go pro, it's not a club sport either. You're putting in 30 hours per week and to me there should be some lasting value to your life, and that's up to the school to help that learning opportunity. The Penn Athletics and Pottruck Center are the two things we started that I think will provide that opportunity for Penn athletes.
What must Grovara absolutely get right in the next 12 months to keep progressing?
We just raised over $5 million. We made projections and we think our revenue and sales must be up five-fold and closer to tenfold and those are ambitious targets. We have a lot of hiring to do, bringing on the right people. We now have the investment capital to hire the people we need to turn on the engine and make it work. We have the tech platform, continue to enhance that platform, learn how to be better, be different, be fast, be reactive. We have a lot do but we need to deliver the revenues we promised our investors so we can hold our head high when we go out to raise our Series A.