TRENDS: OK Boomer, Millennials Will Lead the Snack Revolution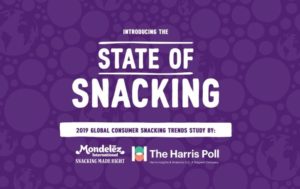 Some of the same forces shaping B2B eCommerce are also driving what and how we feed ourselves. Snacking might get a bad rap — how many times have we heard or said "No snacks before dinner!" — but snacks are overtaking meals in the hearts, minds, and bellies of consumers, and millennials are leading the love affair.
Global snack maker Mondelēz International surveyed 6,068 adults in 12 global markets for its report, and it's not entirely surprising that the state of snacking is better than ever — see the full report here.
Seven in 10 millennials prefer to eat many small meals throughout the day, opposed to a few large ones, which outpaces the overall population surveyed (6 in 10 prefer many small meals). These snacking bonds run deep. Perhaps the most telling results are 3 in 10 surveyed would rather give up social media for one month so they could have their favorite snack every day. When it came to giving up their cell phone, 1 in 5 would do so in order to enjoy their favorite snack daily.
That's true snacking commitment.
From a practical perspective, global adults turn to snacking to control hunger and manage calories (71%), for portion control (66%) and to meet their nutritional needs (65%). Freshness (43%), low sugar (36%) and low fat (31%) are the top three qualities sought out by surveyed snackers.
"Increasingly, consumers are thinking about how smaller bites are integral to their emotional well-being, as well as their physical health," says Mondelez International Chairman and CEO Dirk Van de Put in the report.
About one-third of Grovara's international B2B eCommerce marketplace is made up of brands that are innovating in the snack space, including Honey Stinger, J&J Snack Foods, PopCorners, That's It, Bobo's, Chloe's, and Rule Breaker.
Around the world, snacking happens around the clock, with an average snack time of 1:35p (in the U.S. it's later, 3:05p).
More than 3 in 4 parents want to pass on healthy snack traditions (85%), their favorite childhood snacks (81%), and cultural snacking rituals (76%) to their children. Moreover, 82% of parents say: "Sharing my favorite childhood snack is a small way to connect with them."
If our loved ones won't motivate us to unplug from technology, snacking will.